The Des Moines Vocal Arts Ensemble, a 501(c)(3) not-for-profit organization, was formed by the late James Cox, Professor of Music at Drake University. Professor Cox, supported by others in the community, had a vision of promoting excellent choral performance in the community with a choir of auditioned vocal musicians from the Des Moines area who shared his goal. The first concert was performed in June, 1991.
The primary goal of this ensemble is to bring to the community a variety of serious choral musical styles within a chamber setting. At the same time, the choir is intended to create a special opportunity for serious musicians who desire an intense and concentrated investigation of the repertoire. The philosophical emphasis of the DMVAE is placed on individual commitment and dedication to quality choral music education, group dynamic responsibilities, and individual/ensemble professional development.
Upon his death, Professor Cox was succeeded by Drake Professor Eric Knapp, who directed the group through the spring of 2000. Carol Stewart succeeded Mr. Knapp and continued to develop the group's artistic vision and sensitivity to a variety of musical styles. Upon her retirement in 2008, Dr. Timothy A. McMillin, Director of Choral Activities at Simpson College, succeeded Ms. Stewart. Professor McMillin continues the ensemble's emphasis on excellent choral performance of serious choral repertoire and has made strides, with the Board of Directors, to engage a broader and more vital audience base in past years.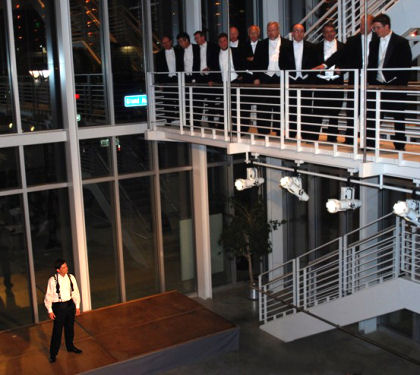 DMVAE performs at least three and often four or five concerts each year, and singers are welcomed to audition throughout the year. Interested singers should email dr.tim.mcmillin@gmail.com for information and an appointment. Members are expected to read music, have a good singing instrument, commit to a rigorous rehearsal and performance schedule, and be willing to work independently for the group goal. In addition to music fees each member is asked to make a financial contribution to the choir.
The Des Moines Vocal Arts Ensemble seeks to be a positive part of a vibrant cultural life in the greater Des Moines area. DMVAE engages school and college students to share learning and performing experiences with internationally known conductors such as Robert Sund, Ken Fleet, Sandra Snow, and numerous others in Des Moines, and the Ensemble participates in community initiatives which have included the World Food Prize, Thresholds Music Festival, the 150th Anniversary of St. Ambrose Cathedral, the 20th Anniversary of the Plymouth Fine Arts Series, the inaugural season of the Grace United Methodist Choral Series, and Memorial Concerts for Veterans. The Des Moines Vocal Arts Ensemble was selected by audition to perform for the 2004 regional convention of the American Choral Director's Association and will appear as featured performers during the 2015 Summer Symposium of the Iowa Choral Directors Association.