DMVAE SILVER CELEBRATION Cabaret and Fundraiser
The Silver Celebration Cabaret is SOLD OUT!
Download full-sized poster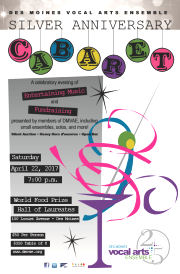 What better way is there to celebrate 25 years of music-making and contributing to the community than with a grand party? Now in its 8th year, our cabaret performance always entertains and delights audiences. Be a part of the energy, excitement, and brilliance of the evening as members of the Des Moines Vocal Arts Ensemble perform pieces on the lighter side! In addition to the outstanding musical entertainment during the evening, our guests enjoy an open bar, heavy hors d'oeuvres and desserts, and a silent auction! Help us celebrate; join the party!
World Food Prize Hall of Laureates, 100 Locust Street, Des Moines, Iowa
DMVAE's 25th Anniversary Silver Collection CD is here! Buy it when you place a ticket order, pick it up at the concert.

Get it now!
Download the CD from CD Baby.