Des Moines Vocal Arts Ensemble 2016 – 2017 Season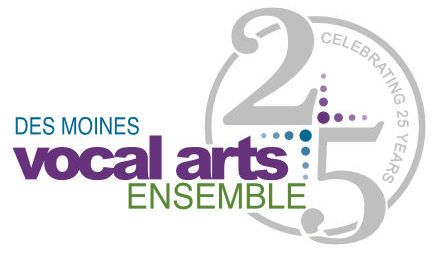 Saturday, September 24, 2016 – 7:30 PM
Sunday, September 25, 2016 – 2:30 PM
BEETHOVEN Symphony No. 9, "Choral – An Ode to Joy"
Des Moines Symphony's Masterworks 1: Season Debut Beethoven's Ode to Joy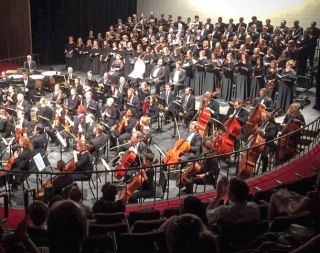 You won't want to miss the singers of the Des Moines Vocal Arts Ensemble in a massive choral collaboration created by the Des Moines Symphony Orchestra, under the direction of Maestro Joseph Giunta, with the Simpson College Chamber Singers and the Drake Choir, directed by Dr. Aimee Beckmann-Collier! Also on the program will be the Rossini "William Tell Overture" and Bach's "Brandenburg Concerto No. 5."
Des Moines Civic Center
221 Walnut Street, Des Moines, Iowa
Sunday, October 23, 2016 – 4:00 PM
"The Human Condition: Joy and Sorrow"
Download full-sized poster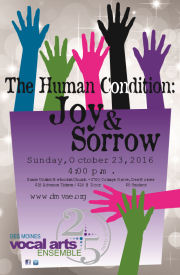 With music that is filled by messages and sounds of joy and hope to pieces that express the deepest sorrow and pain, choral performances represent the human condition in meaningful and unique ways. This program will present music designed to evoke the extremes of joy and sadness and probably a variety of conditions in between. Joined by an instrumental chamber ensemble, the Des Moines Vocal Arts Ensemble will perform works by Bach, Duruflé, Finzi, Gawthrop, Monteverdi, Vivaldi, and numerous others. As a tribute to their 150th and 350th birth-year anniversaries, the ensemble will offer music by Harry T. Burleigh and Grzegorz Gorczycki as well! Come and let your spirit be moved.
Grace United Methodist Church, 3700 Cottage Grove Ave, Des Moines, Iowa
Sunday, December 18, 2016 – 4:00 PM
"Silver Reflections: Christmas With Vocal Arts"
Download full-sized poster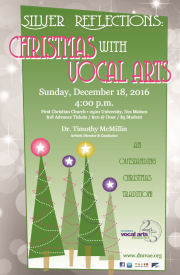 You won't want to miss this extraordinary Christmas tradition! In honor of the Ensemble's Silver Anniversary Season, this year's program will feature silver-themed gems from the holiday repertoire. As a special treat, the program will also include favorite pieces from past Christmas with Vocal Arts concerts nominated by the members of the Ensemble! Be sure to give yourself the gift of experiencing this year's "Silver Reflections: Christmas with Vocal Arts!"
First Christian Church, 2500 University Ave, Des Moines, Iowa
Sunday, March 26, 2017 – 4:00 PM
"Cathedral Reflections"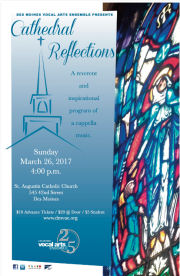 Performed during the heart of the Lenten season, the Des Moines Vocal Arts Ensemble is pleased to return to St. Augustin's Catholic Church to offer an a cappella, reverent,and inspirational program to include works such as the Allegri "Miserere," Barber's "Agnus Dei," Mendelssohn's "Richte mich, Gott," Bruckner's "Os justi," Purcell's "Hear My Prayer, O Lord," and the Lotti "Crucifixus," among others. Allow yourself the blessing of time to be in reflection, meditation, and introspection.
St. Augustin Catholic Church, 545 42nd St, Des Moines, Iowa
Saturday, April 22, 2017 – 7:00 PM
DMVAE SILVER CELEBRATION Cabaret and Fundraiser
Download full-sized poster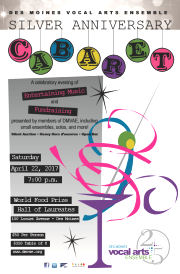 What better way is there to celebrate 25 years of music-making and contributing to the community than with a grand party? Now in its 8th year, our cabaret performance always entertains and delights audiences. Be a part of the energy, excitement, and brilliance of the evening as members of the Des Moines Vocal Arts Ensemble perform pieces on the lighter side! In addition to the outstanding musical entertainment during the evening, our guests enjoy an open bar, heavy hors d'oeuvres and desserts, and a silent auction! Help us celebrate; join the party!
World Food Prize Hall of Laureates, 100 Locust Street, Des Moines, Iowa