Support DMVAE by making a pledge to the Principal Charity Classic
The Des Moi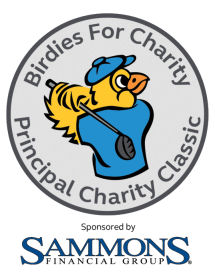 nes Vocal Arts Ensemble graciously requests your support for the 2018 Birdies for Charity program, June 5-10, 2018, Wakonda Club, Des Moines, Iowa.
To register and make a pledge for DMVAE, please visit our contribution page.
Birdies for Charity is a fundraising program that is administered by the Principal Charity Classic. Supporters make a financial pledge to the non-profit organization of their choice. The pledge is calculated based on how many "birdies" are made by Champions Tour players during the 2017 Principal Charity Classic, or a one-time flat donation can be made.
Your pledge will be augmented by an additional 10% from Principal Financial and 100% of proceeds pledged will be given to our organization.